OMG! We are speechless after witnessing that magnificent performance! Special offer at the end for ARMIES eyes only!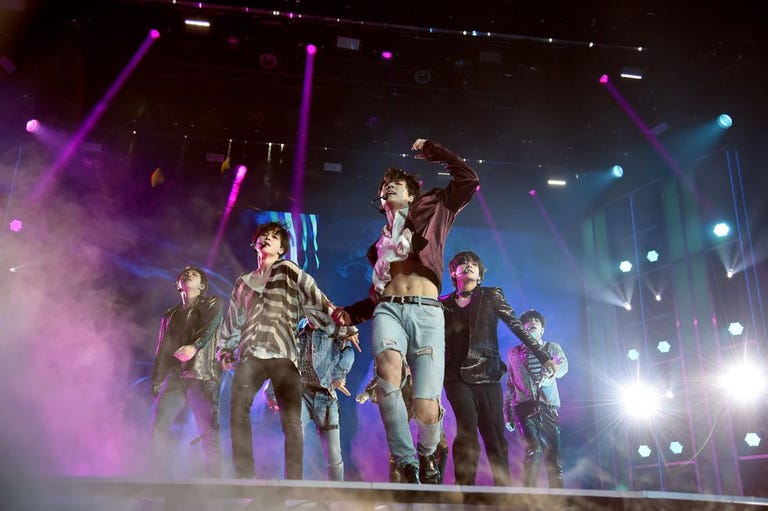 K-Pop superstars BTS won the "Top Social Artist" at Sunday night's Billboard Music Awards for the second year in a row!  The crowd started screaming so loud every time the camera even panned in their direction! Apperantly the screaming got so loud that you could have gone momentarily deaf if you were there! (Host Kelly Clarkson had to put on fluffy pink earmuffs!)
But thank the lord that it was only momentary hearing loss because the boy band also performed their new single "Fake Love" and it was just wonderful. "Fake Love" is the lead single from the band's new album, which is titled Love Yourself. The performance was absolutely breathtaking and as good a performance as they have ever put on. Onlookers were treated to a little cheeky flash of Jungkooks abs which had all of us here at the K-Pop warehouse SHOOK!
Watch an unofficial  from the BBMAs performance below; it's all we got until the full official clip becomes avililible so enjoy this little morsel until then. Listen to all the ARMIES losing thei minds in the audience !
Leave a comment below with your reaction to this amazing performance and stay tuned by joining our email list for more updates from the wonderful world of BTS.
Celebrate with new 'LY Tear' Merch!
To celebrate BTS award & their upcoming album (CAN'T WAIT) we have a special 40% Off our limited edition 'Love Yourself Tear' sweats & tees.  Theyre the perfect way to get ready & show your love for their upcoming tour. What's even better is if you order today you can get FREE shipping worldwide. But hurry, these won't last very long in stock. Click the images below to get one now!